RSET2011, Kuching Sarawak, Malaysia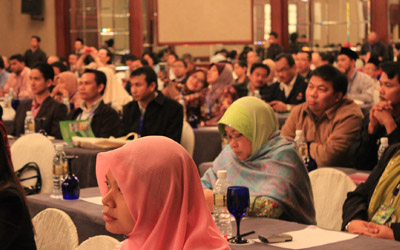 The Regional Symposium on Engineering & Technology (RSET2011) which was the third in its series was successfully held at the Hilton Hotel, Kuching, Sarawak, Malaysia. The symposium with the theme "Opportunities and Challengers for Regional Cooperation in Green Engineering and Technology" gathered participants from Malaysia and countries within the region.
Opening Ceremony & Keynote Session
Early in the morning, participants came to register for the Symposium and a number of more than 200 people gathered to fill in the ballroom.
The morning session started with a prayer recital by Prof. Dr. Ir. Mohd. Amin Mohd. Soom from Universiti Putra Malaysia. Next, the first session of keynote speakers was conducted, chaired by Dr. Mustafa Din Subari from ANGKASA, MOSTI. The first Keynote Speaker was Prof. Dr. Anthony Chiu from De La Salle University, Philippines followed by the second Keynote Speaker, Prof. Dr. Morakot Tanticharoen from King Mongkut's University of Thonburi, Thailand.
Following a short coffee break,  the honorary guest, YAB Pehin Seri Haji Abdul Taib Mahmud, Chief Minister of Sarawak arrived for the officiating ceremony. The chief Minister was greeted and ushered to the VIP holding room for a short session with several MySET council members. Presiden, Prof. Dato' Abang Abdullah Abang Ali, MySET Deputy President, Ir. Azme Idris, FEIIC Vice President, Prof. Megat Johari Megat Mohd Noor and RSET2011 Chairperson, Prof. Dr. Rosnah Mohd. Yusuff.
Prof. Dr. Rosnah Mohd. Yusuff gave the welcoming speech as the Chairperson for RSET2011. YAB Pehin Seri Haji Abdul Taib Mahmud then took the stage to address the crowd and officiated the ceremony by activating a gimmick robot which was met with much amusement from everyone. Following the officiation ceremony, all of the honored guests were again ushered to the VIP room for a Press Conference with the Press.
The second session of Keynotes was chaired by Ir. Ahmad Tamby Kadir from UCSI University with the Keynote speakers being Dr. Nur Indrianti from Universitas Pembangunan Nasional "Veteran" Yogyakarta, Indonesia and Mr. Azhar Daud from Hitachi Air Conditioning Products (M) Sdn. Bhd. Malaysia. After the lunch break, the last session of Keynotes was chaired by Prof. Dr. Ir. Mohd Amin Mohd Soom with the Keynote Speakers being Prof. Dr. Budi Indra Setiawan from Bogor Agricultural University, Indonesia, Prof. Dr. Mohd Ali Hassan from Universiti Putra Malaysia and Mr. Shaharum Ramli from Nuklear Malaysia.