FEIIC Council Meeting, Almaty, Kazakhstan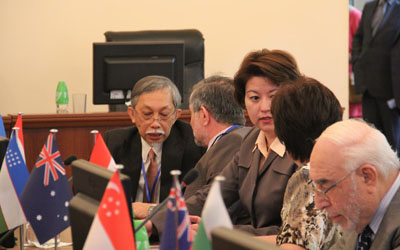 The 25th FEIIC Council Meeting was held on 2nd June 2012 at the Kazakhstan Engineering Academy meeting room. During the meeting, reports from the Acting Secretary General Dr Gulbazar who is also the Chief Scientist of the Academy, Regional Offices and Standing Committees were presented and discussed. The following matters were decided;
The Engineering Qualification, Accreditation and Professional System Project EQAPS which received an initial funding of USD65,000 from the Islamic Development Bank (IDB) was presented in the main Congress at the Kazakhstan Technical University. The project shall be initiated by 6 FEIIC member countries which include Malaysia, Saudi Arabia, Jordan, Pakistan, Kazakhstan and Kuwait. These countries shall identify the representing bodies in their own country. Malaysia shall lead the project, under Prof Megat Johari Megat Mohd Noor.
The 4th World Engineering Congress (WEC2013) shall be hosted by the Pakistan Engineering Council (PEC) and Institution of Engineers, Pakistan (IEP) on 20-22 March 2012 in Islamabad. There shall be a 26th FEIIC Council Meeting, Young Engineers and Women Engineers Conference during WEC2013. EQAPS shall also hold a meeting at the same time. Young Engineers Conference shall be jointly organized by Malaysia and Women Engineers Conference by Jordan.
The next FEIIC General Assembly shall be hosted by the Egyptian Engineering Syndicate in Cairo, since Sudan declined to host it. Both the International Engineering Convention (IntEC2013) and World Housing Congress (WHC2013) shall be organized during the event to be organized in October 2013.