GSEE, Istanbul, Turkey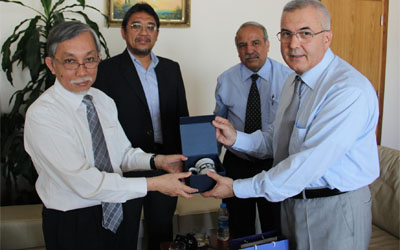 The Turkish Engineering Accreditation Body, MUDEK hosted the 2nd Global Seminar on Engineering Education (GSEE2012) on 5 June 2012 in Istanbul, Turkey. Prof. Dato Abang Abdullah Abang Ali, MySET President and Past President of FEIIC, presented a Keynote paper, followed by presentation from Turkey, Saudi Arabia and Malaysia. Turkey being the second Islamic Country to be accepted as full signatory of the Washington Accord (WA) after Malaysia, has a lot to contribute to FEIIC, especially to the EQAPS project.
Turkey under the Chairmanship of Dr Erbil Payzin of MUDEK was able to be accepted as full signatory of the WA in a short time after being accepted as a provisional member because it has many degrees already accredited by the Accreditation Board of Engineering & Technology (ABET) in the United States, and unlike Germany which wanted its first cycle 3 year degree programme to be accepted by WA and was rejected, Turkey offered its first cycle as a 4 year programme. Turkey is invited to participate in the EQAPS project and a follow-up invitation shall be sent to MUDEK soon.
Prof Megat Johari Megat Mohd Noor, Secretary General, MySET and Vice-President of FEIIC, described in detail Malaysia's experience in engineering degree accreditation and our effort to get into the WA.
Dr Sheikh Mohsin for King Saud University presented the Kingdom of Saudi Arabia's experience in engineering education.
It was not possible to visit the Union of Chambers of Architects and Engineers which has its headquarters in Ankara, some few hundred miles from Istanbul.
However a visit to a number of interesting educational and cultural centres were undertaken including a visit to the Turkish Journalist and Writers Association which promote intercultural dialogue, an Islamic Academy for postgraduate education, madrasahs, an Fatih University. Fatih University is a good example of a university established by a foundation, supported by generous endowment and sponsorship.