Alrabiah & Partners Co. receives ESQR Award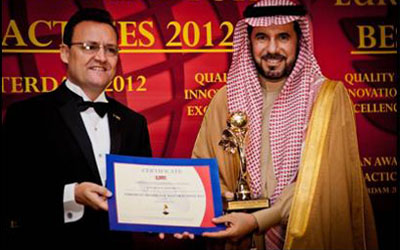 Alrabiah Consulting & Engineering Services thanks the support of its clients and employees which made the firm recognized worldwide in the field of consulting engineering services. They were awarded by "THE EUROPEAN AWARD FOR BEST PRACTICES 2012" by European Society for Quality Research (ESQR) during the ceremony held in Barcelona - Spain in April 2012 in recognition of the extra ordinary achievements in customer satisfaction and outstanding result in Quality Management.
ESQR promotes quality awareness, recognizes good business practices, technological innovation, quality achievements in organizations worldwide, and publicizes these organizations' successful performance strategies. ESQR also provides solutions to enable organizations from any industry, irrespective of its size and geographic location, to learn the tools and techniques for managing quality as well as address global challenges.
Company Profile:
Alrabiah & Partners Co. (ARP) was established in 1988 as a multi-disciplinary professional engineering firm based in Saudi Arabia with head office in Dammam, and regional offices in Riyadh, Jeddah and Yanbu. ARP combines its local professional expertise with the experience and resources of its international associates to achieve the best possible results for the clients.
Since its inception, ARP has shown steady growth through strategic marketing and selective tendering of projects best suited to the range of services it offers. These services range from the early planning and conceptual development through detailed designing, preparation of contractual documents and appraisal of costs, to construction supervision. With ARP's commitment to excellence in delivering high quality services, it has achieved the ISO 9001: 2000 certificate.
ARP's main engineering services include Buildings, Marine Structures, Roads & Bridges, Airports, Traffic Studies, Electro-Mechanical Engineering, Project Management, Environmental Engineering, and Investigation & Assessment of Structures. Besides the above main services, ARP has expanded its services into specialized fields such as; Value Engineering, Risk Analysis, Contract Administration, Arbitration, Safety Management and Claims Preparation.
Drawing on ARP's substantial local & international experience, and implementing this in the development of project & design specifications, combined with supervision of site activities, ARP aims to deliver the highest standards to a wide and varied range of clients in Saudi Arabia and abroad.
ARP leads in the field of structural investigation & rehabilitation, the core business on which ARP was originally founded in Saudi Arabia.
ARP leads also in Project Management having undertaken numerous assignments including new structures, as well as complicated rehabilitation projects.
ARP furnishes high quality professional consulting & engineering services to government and semi-government organizations, as well as the private sector.
Company website: http://alrabiah.com.sa/
ESQR website: http://www.esqr.org/en/